There was a time, not so long ago, when it was universally proclaimed that a girl's best friend was (wait for it) — a DIAMOND!
Marilyn Monroe even sang about it in the song "Diamonds Are a Girl's Best Friend." Diamonds were a girl's investment in her future.  Her lifetime ace in the hole.  Her go to, if and when times ever got too tough.  That was the theory anyway.
Of course, the universally preferred/expected diamond was one that came in an engagement ring.  Endless books, articles and discussions were dedicated to explaining how best to select and buy your diamonds.  After all this was critically important stuff.
Marriage is a wonderful thing.  But.  Most women would say unequivocally that a diamond never helped them achieve any of the things that mattered most in their life.
And I'll bet each and every time you've needed an ace in the hole to tip the scales in favor of your own hard work, it was other PEOPLE that made the difference!  And usually it was those people who were a part of your network of spouse, family, friends, co-workers, associates, friends of spouse, friends of family, friends of friends, friends of co-workers, friends of friends of family … (Hmm, are you seeing a pattern here?)  These are the people who step forward to listen, lend a hand or shoulder or idea, share information and experiences, find others who could and would help…
Yes, a network is a diamond investment in your future.    As with any precious gem, it takes time and attention to find the best available — bigger isn't always better, clarity and quality are key, and a many faceted network will let the brilliance shine through.
Do you have a great network?  Do you need help developing one?  Or would you just like tips to let the brilliance shine through?
Join the National Girlfriends Networking Day June 4th to connect, celebrate, and learn.  Make your network your new best friend and wear it with pride!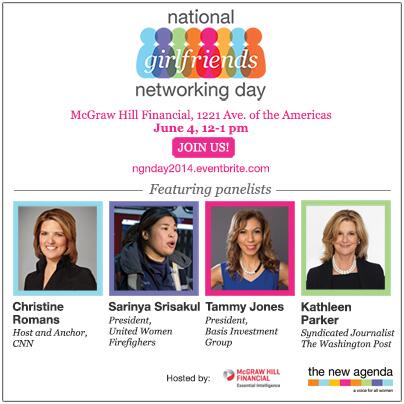 *updated and revised from 6/13
###